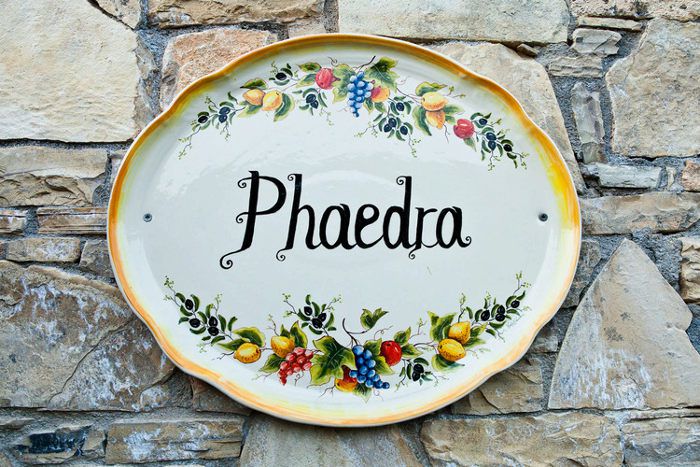 Villa Phaedra
Scroll down
Villa Phaedra
Description
SETTING AND POSITION
Istron Luxury "Bay" villas are located in the Pilos gulf which they harmonically but still discretely share with the neighboring hotel. Villas are arranged in 2 parallel complexes, elegantly cascading down the eastern slope of the gulf, each level dedicated to a single house. Villa Phaedra is set just one level from the top of the eastern and farthest to the sea complex, amidst Daphne and Artemis.
---
ACCESIBILITY
Parking space outside the villa.
2 extra parking lots
Reception & Restaurant lays conveniently at the foot of the complex
200m from the beach (4 min. walk)
A shop in Istron Bay Hotel, within a walking distance, can provide drinks, snacks, books and gifts
Istron Village has small supermarkets, a car is recommended
Arrange your shopping through us.
---
ARRANGEMENT - CAPACITY
Villa Phaedra is a 2 bedroom villa divided in 3 spaces:
1 bedroom with an en suite bathroom with bathtab
1 bedroom with a bathroom with shower
a living area which includes a fully equipped kitchen with a dining table and a comfortable sitting area with a fireplace.
All bedrooms have direct access to the terrace.
---
FITTING & FIXTURES
The bed can be set together or apart according to wish.
The villa can hold an extra bed or baby cot if needed.
Temperature is regulated by autonomous air conditioning units in each room.
Kitchen Includes: kettle, coffee machine, toaster or sandwich maker, Microwave, 4 hobs cooking oven, refrigerator, all appropriate Kitchenware.
Bathroom Includes: towels, hairdryer, toiletries, makeup mirror, emergency kit
Villa includes: safe box, DVD player 28'LCD TV, satellite t.v., Iron and Iron board.
---
AMBIENCE
All bathrooms are tiled with white marble.
Elegant furniture, modern and traditional combined to create a homely environment.
Handmade paintings, as well as folk art around the house complete the decoration.
---
THE VIEWS, THE SOUNDS
To ensure the quality of the sleep a substantial investment has been made to equip the villas with metal free, ergonomic mattresses built with natural materials, as well as quality pillows (COCOMAT).
---
THE POOL
Pool size: 28.90 m2, min depth: 1.10 m, max depth: 1.60 m
The pool occupies the front end of the terrace. Part of it is shallow, dedicated to children's fun.
Immersed marble-top steps secure effortless access for all.
---
TERRACE FURNITURE
Just in front of the house and under a wooden pergola there is marble table ideal for alfresco dining. Opposite to the stone facade of the building stands a sitting area with built-in sofas. The rest of the space is for the guests to set the sunlounges and enjoy the sun. A portable BBQ is available upon demand.
---
PRIVACY / SHADING
The difference in elevation is already a significant separating element, carefully placed shading create additional blind spots. A parasol provides additional shading if needed.
---
SERVICES
Welcome pack.
Free Wi-Fi.
Housekeeping: 5 days a week, linen changed 2 times a week.
Pool cleaning: at least 3 times a week.
Technical assistance 24/7
---
TECHNICAL
Villa size: 101 m2
Pool size: 28.90 m2, min depth: 1.10 m, max depth: 1.60 m
construction year 2004.
Facilities
Rooms: Two-bedroom villa with swimming pool (101 m²).
Baths: Toilet and two bathrooms
Security: Security box
A/C: Fully air-conditioned
Internet: wireless internet
Parking: Available parking outside the villa